What's happening in Environmental Sustainability Education at TCNJ?
Join us for a fantastic environmental sustainability education networking event on December 8th! RSVP here:  https://tcnj.co1.qualtrics.com/jfe/form/SV_3IXD6pZjCpd8nYh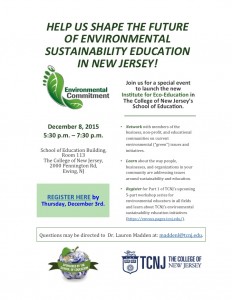 On 11/18, the School of Education hosted a wonderful lunch at Eickhoff highlighting the importance of food and sustainability. Learn more here:  http://news.tcnj.edu/2015/11/19/saving-the-planet-one-bite-at-a-time/
On 9/30 we held a fantastic meet & greet, where we got to know more about students interested in environmental sustainability education.
We had a fantastic kickoff celebration on Earth Day 2015- April 22nd! Keynote speaker Dan Smith provided a hopeful message about environmental education and exhibitors from all over campus shared their work.
Spring 2015 ELE/ESE 100 students made the headlines on TCNJ's webpage on a field trip to a local restaurant to learn more about food and sustainability. Learn more here